2023 Upcoming Events and Appearances

Oct 6th — Panel Discussion at Associated Study of the Arts of the Present (Seattle, WA)

Oct 11th — Panel Discussion at the Coalition for Community Writers (Denver, CO)

For all speaking and reading inquires, reach out at —

daisy.atterbury at gmail.com

Past Events






9/21 Bothell, WA
&Now Conference of Innovative Writing
PERFORMANCE, Sounding Failure: Against Convergence as a Utopian Ideal
Sara Deniz Akant ︎Ashna Ali ︎Daisy Atterbury

10/12 College Park, MD
ASAP/11 Associated Study of the Arts of the Present
PANEL, Poetic Labor and the Articulation of Place
Daisy Atterbury (The Graduate Center, City University of New York) ︎ Maryam Parhizkar (Yale University)︎ Genji Amino (Columbia University)︎ Michael Dowdy (University of South Carolina)︎ Jason Perez (University of San Diego)︎ Farid Matuk (University of Arizona)︎ Susan Briante (University of Arizona)

11/6 Honolulu, HI
ASA American Studies Annual Conference
PANEL, The Politics of Sound, the Sound of Politics
Bernardo Attias (California State University–Northridge
)︎Daisy Atterbury (The Graduate Center, CUNY)
︎ Michael Bachmann (University of Glasgow
)︎
Abigail Shupe (Colorado State University–Fort Collins)





Sunview Luncheonette
, organized by Amy Ruhl
Organized by
Kyoo Lee
&
Lee Ann Brown,
Dec 6, 2017
Co-sponsored by: The Center for Humanities at CUNY Graduate Center;
Queens Museum; mp3: Poetry, Philosophy, Performativity Seminar on
Public Engagement and Collaborative Research; and the Department of English,
St. John's University.
Bushel is pleased to present

Not Even: Poets Make Collage

, a group exhibition on view from April 8 through May 15, 2017.

Exhibiting artists include Eric Amling, Holly Anderson, John Ashbery, Daisy Atterbury, Rijard Bergeson, Dara Cerv, Youmna Chlala, Todd Colby, Steve Dalachinsky, Claire Donato, Brandon Downing, Nathaniel Farrell, Sarah Gerard, Adjua Gargi Nzinga Greaves, Jacq Greyja, Jen Hofer, Saretta Morgan and Ariel Goldberg, Christine Shan Shan Hou, Mark Leidner, Yuko Otomo, Buzz Spector, Lewis Warsh



—

NOT EVEN: POETS MAKE COLLAGE
April 1–May 15, 2017

Opening Reception: Saturday, April 8, 6-8pm, with readings by Adjua Greaves, Saretta Morgan, and Sarah Gerard
Open for viewing on Saturdays from 12-5, during events (see the Calendar for event listings), and by appointment
Contact: info@bushelcollective.org

Images: Collages by Dara Cerv (left) and Buzz Spector (right)
How does a gathering of people within a house of poetry provide new insights on migration, belonging, and culture beyond currently-held notions of sovereignty? Alison Knowles' House of Dust computer-generated poem of 1967 and subsequent architectural structures in New York and California in the early 1970s, have inspired artworks, gifts, sound environments, poetry, and performances in the late 60s and today. For this evening, poet and scholar Meena Alexander will read her new work written in response to The House of Dust that continues her investigations of migrant memory, dwelling and dislocation. She will be joined by art critic, historian, and curator David Joselit, who will discuss his interests in the globalized and digitized conditions of art in the 21st century. Join this evening of reading and conversation moderated by Daisy Atterbury and Iris Cushing.

Co-sponsored by the Committee on Globalization and Social Change, and the Ph.D. Programs in English and Art History, The Graduate Center, CUNY.
A House of Sound and Sense – Performances of sound scores and improvisatory practices
James Gallery, CUNY, New York
September 22, 2016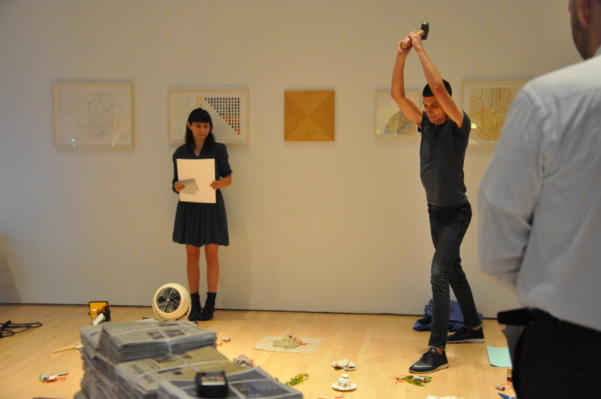 Poet Ada Smailbegović shared performances of sound scores made in response to the original computer printout of Knowles' The House of Dust. Performers for the evening included Caitlin Hurst, Lucy Ives, Benjamin Phillips, Cameron Williams, and Rachael Wilson. This evening built onwide-ranging processes that engaged improvisation as well as material and bodily responses to sound and movement.This evening was organized by Iris Cushing and Daisy Atterbury, Ph.D. students in English at the Graduate Center, CUNY.
Special thanks to Alison Knowles, Hannah Higgins, Jessica Higgins, Joshua Selman, James Fuentes, Julia Robinson, Christian Xatrec, Norman C. Kaplan, Irene Lotspeich-Phillips, Jenny Tobias, Dorothee Charles, Christopher Lowery, Mark Bloch, Todd Alden, Simone Forti, Michael Bell, Gladys Washburn, Willard van de Bogart, David Eisenman, Jeffrey Perkins, Calvin Miceli-Nelson, Getty Research Institute, Museum of Modern Art, EAI, Lux, Simon Preston, Murray Guy, Esther Schipper, Galerie Fricke, and International Print Center New York. Ph.D. students who contributed texts and organized public programs: Daisy Atterbury, Iris Cushing, Elizabeth Donato, Christopher Green, Alexei Grinenko, Joseph Henry, Debra Lennard, Bess Rowen, Hallie Scott, Gillian Sneed, Kaegan Sparks, Rachel Valinsky, Ian Wallace.The House of Dust and her subsequent built structures of the same name are the focus of this presentation. Documentation of Knowles's poem and built structures, discussions, publications, and performances are presented in dialogue with other artworks from the period—predominantly by Knowles and other Fluxus artists—exploring the nexus of art, technology and architecture in ways that resonate with The House of Dust. In addition, her prescient yet under-recognized project has been an inspiration for contemporary artists' and architects' responsive artworks and spatial interpretations included in the exhibition.

Knowles's The House of Dust is among the earliest computerized poems, consisting of the phrase "a house of" followed by a randomized sequence of 1) a material, 2) a site or situation, a light source, and 3) a category of inhabitants taken from four distinct lists. In 1968, the computer-generated poem was translated into a physical structure when Knowles received a Guggenheim fellowship to build a house in Chelsea, New York. This architecture was later destroyed, restored and moved to Cal Arts Burbank, California, where Knowles was invited to teach in 1970-72. She enjoyed teaching her classes in the House and invited artists to interact with with its open structure by creating new works.

Reactivating the pedagogical model proposed by The House of Dust (and by Fluxus with which Knowles was associated), this project at the James is the outcome of collaboration between artists and scholars in disciplines including art, architecture, poetry, literature, music, computer science, and performance. Over the fall semester, reactivations of Knowles' workshops will engage students in Social Practice Queens at Queens College and Spitzer School of Architecture, City College as part of their curriculum. The exhibition publication includes texts by Ph.D. students in English, Art History, and Theatre at The Graduate Center connecting their research interests on this project to their dissertation topics.

Artists: Alison Knowles and Ay-o, Chloë Bass, Keren Benbenisty, Jérémie Bennequin, George Brecht, Hugo Brégeau, Marcel Broodthaers, John Cage, Alejandro Cesarco, Jagna Ciuchta, Constant, Jean-Pascal Flavien, Yona Friedman, Mark Geffriaud, Beatrice Gibson, Eugen Gomringer, Dan Graham, Jeff Guess, Geoffrey Hendricks, Dick Higgins, Maria Hupfield, Toshi Ichiyanagi, Norman C. Kaplan, Allan Kaprow, Frederick Kiesler, Nicholas Knight, Katarzyna Krakowiak, Mikko Kuorinki, Theo Lutz, Stephane Mallarmé, Alan Michelson, Yoko Ono, Nam June Paik, Jenny Perlin, Nina Safainia, Carolee Schneeman, Mieko Shiomi, James Tenney, Srdjan Jovanovic Weiss, and Emmett Williams.

Curators: Katherine Carl, Maud Jacquin and Sébastien Pluot.

Co-sponsored by the French Ministry of Culture and the French Institute, the Ph.D. Program in Art History, the Ph.D. Program in Theatre, and the Center for the Humanities, the Graduate Center, CUNY. This project is part of Art by Translation International Research Program in Art and Curatorial Practices directed by Maud Jacquin and Sébastien Pluot at Esba TALM Angers / ENSAPC / CNEAI.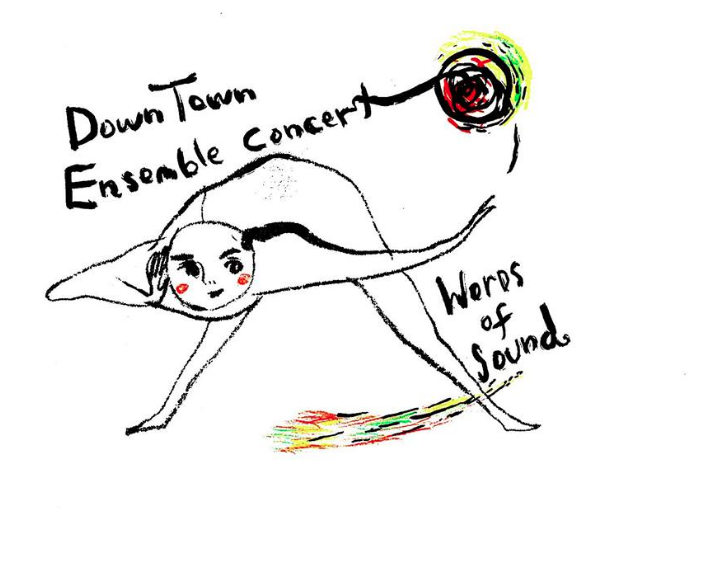 The Lightest of the Stones(2015), we can operate at the intersection of art and use. These categories don't really make poles. I'm following Lucy Lippard's injunction to abandon the word "landscape" for "land use," sitting in a dark corner observing dialogue exchanged by a cluster of men in front of a black mountain pumice quarry in Iranian Kurdistan, the site of a labor now profitless because of trade sanctions against Iran.

"It's like this place was once boiling" (The Lightest of the Stones, 2015).

The oldest bedrock exposed in the New York City area is Fordham Gneiss, a billion-year-old deformed sequence of metasedimentary, metavolcanic, and metaplutonic rock that is exposed in the Bronx, with portions existing beneath the Cretaceous and overlying glacial sediment of Queens and Brooklyn, extending into the subsurface of Manhattan. The rock consists primarily of quartz, feldspar, mica(s), amphiboles, pyroxene, and garnet, usually with "accessory minerals" kyanite, sillimanite, epidote, and magnetite.

We know we're interested in description, that writing can describe the world and remind us of where we are as a species, as bodies, capacities, and subjectivities. We know we're interested in how observation is also fantasy and documentation is also imagination. In producing these objects, texts, experiences, we can imagine and demarcate other possibilities, impossible realities, and different kinds of permissible violence: like the violence of narration, of constructing alternative personal and cultural histories.

Directions to a gravel quarry: Take the George Washington Bridge to the Cross Bronx Expressway. Follow the Cross Bronx Expressway to the Whitestone Bridge. You will then be on the Whitestone Expressway. Take the Whitestone Expressway to Exit 14 (Linden Boulevard). Stay on the service road and go through three lights until the end. Then make a left onto College Point Boulevard. The terminal is a quarter-mile down the road on the right (before Best Concrete).

What if it becomes important to see "slow" and/or "death" as essential nonce taxonomies invested with strains of irrational, uncanny, disloyal, even cruel resistance to hegemonic notions of wealth and prosperity—as decidedly unheroic, but essential? If we do away with investments in fit-ness, longevity, and citizenship as a priori?

"There was a time this place was all molten iron" (Stones, 2015).

The word "todt" is a variant of the Dutch word for death, thought to refer to Todt Hill's history as a burial ground and site of colonial violence against indigenous inhabitants by Dutch settlers. (The residue of violence restricts itself to a line of notation on signage posted at Sports Park, Toad Hall Playground, by the New York City Department of Parks and Recreation.) The first instances of iron mining in the New York City area have been traced back to the excavation of iron ore from the decomposition of serpentine rock on Todt Hill, Staten Island, in 1644.

"It could be extracted with relative ease" (Signage, Sports Park, New York City Department of Parks and Recreation, as part of the Historical Signs Project).

In her center room installation, Barb Smith displays "the things we keep" (Memory of a tiptoe…, Mixed media installation, 2016), "granite dust from a monument making shop in Queens, fine bone china rims, when all the color goes away, rubber cast of how to move in 1939." Hardened—our word—object, memory foam soaked in resin in which her bodily form is impressed. "Chunk glass"; "sinking pewter." These excavations aren't without their languages, traumas, histories.

***

A tradition since 2001, Queens International is the Museum's biennial exhibition of artists living or working in Queens. While each iteration has had its own curatorial team and vision, what remains constant is the central aim of highlighting and contextualizing the artistic vibrancy of the borough through contemporary cultural productions in all media.

Queens International 2016 characteristically looks to the idea of thresholds, and the way spaces for transition, contact, and exchange become markers for the complex forces that shape contemporary life. Many of the 34 participating artists, collectives, and partner organizations use performance-based and site-specific approaches to incorporate the museum's architectural and historical context and engage the diverse body of the museum audience. Ongoing projects in Queens International 2016 include experimental and often participatory events, genre-bending musical concerts, and international collaborations between Queens artists and their global counterparts. The politics of borders and border-crossing are expanded through the exhibition and public programs to include not only the discourse of physical territory and migration, but also the act of transgressing between artistic disciplines, linguistic or ideological divides, digital and human interfaces, and prescriptive narratives of the past, present, and future.

References and source materials used by the artists zoom in and out of visibility from local to global, from micro to macro, and from private to public: the dominance of Western advertising in post-conflict Beirut; the international ubiquity of Mariachi bands; hyper-development in the New York City real estate market; the not-so-anonymous crowdsourced Internet marketplace; the reassessment of the body or embodiment in contemporary life; and the remixing of artistic identity with a local Jazz legend. Queens International 2016 navigates these shifts between assumed binaries and examines the ways in which systems regulate our bodies and environments.

Responding to the increasingly intertwined relationship of printed and digital media today, Queens International 2016 features a contemporary model of publishing and distribution that develops into its maturity through post-opening contributions, generated by participating artists' interactions among themselves and with external responders. An evolving web platform will produce a print-on-demand publication that will incorporate content authored over the course of the exhibition. The website–serving as a living hub for documentation, artist interviews, short-form writing, and commentary from wide-ranging responders–in turn comprises a publication that can either be printed on-site at the exhibition via a risograph printer, or accessed as a downloadable PDF. In line with the character of Queens International 2016, the risograph method allows the publication to sit somewhere between a handmade screenprint and Xerox copy, giving digitally formatted content a uniquely physical property.

©2016 Queens Museum

Design and development by Ayham Ghraowi and Brandon Gamm


NOTE FROM THE EDITORS, BEYOND "ONE" OR "TWO"

Daisy Atterbury, Tarek El-Ariss, Mirene Arsanios


Makhzin's second issue, Feminisms, emerges from 98weeks and its current research on feminism's historical legacies and its contemporary valence in non-Western contexts. A bilingual magazine, Makhzin features writing in English and Arabic, and provides a platform for authors across the Middle East, North Africa and beyond.

The plural form, "feminism(s)," captures an inclusion that we know can never be fully accomplished. Feminisms is both one and many. It is an intolerant plural. It does not accept the erasure of difference in the service of the one. At best, it is a commitment to representing different voices and languages. The texts collected in this issue respond to Feminisms, enacting the multiple histories, struggles, and voices that constitute "feminism" as both concept and practice:

"I feel like a verb conjugated in another tongue," says Afghani-American author Mina Zohal in multilingual prose. The Romanian writer Sînziana Păltineanu writes a tale about a woman who has lost her ability to speak. Disintegration, metaphorical in Păltineanu, is literal in Barb Smith's poem, A Transcription of a Division, an account of a magician performing the sadly infamous "sawing a woman in half" illusion. Mutilated, the female body is re-assembled through language, which sutures but also rips apart, divides and reconnects.

On Makhzin's website, Arabic and English are laid out along a dividing line that both separates and joins. This line stands for the possibility and impossibility of crossing from one shore to another — Walter Benjamin's famous definition of translation. The one translation in the current issue, On Motherhood and Violence, is Iman Mersal's powerful examination of guilt and selfishness, affects traditionally shunned from maternal representations.

Crossing languages, the texts assembled in this issue convey an understanding of feminism that conjugates gender and sexual identities (Lena Merhej, Barb Smith) with genderless and post-humanist readings of the body. Ashkan Sepahvand appropriates scientific jargon to dissect the body-apparatus, its material envelopes, and the cosmic origins of HIV. Shattering the unity of the self, the body in Sepahvand's text becomes sap, minerals, and immaterial relations.

But a feminist issue wouldn't be the same without a cunt. Lena Merhej explores nascent and impulsive sexualities through graphic drawings. Rheim Alkadhi's take on migration is organ-based: the vagina delimits different geographical regions, ways of trespassing or inhabiting them. Syrian author Abbud Said also connects geopolitics and gender by telling the story of his mother against the backdrop of the current war.

Set in Beirut, Lina Mounzer's piece plays with different planes of reality: a film set and a city, sex and political ideologies, remembering and acting. Mira Mattar's We're Good People dives into the crude minutia of gossip, and in another tone, Moroccan author Fatima al-Zahra al-Righaywi writes a letter to a male lover, lamenting yet accepting her desire.

Rola Hussein writes about two sisters who confront one another without uttering a word, and Istabrak Ahmad, a writer from Kuwait, takes up the betrayal of the father, Bill Cosby. Isabel Waidner's experimental novella, GAUDY BAUBLE, draws a queer taxonomy of animal ceramics to elucidate a crime scene. And on a last cosmic note, British artist and writer Dalia Neis weaves the voice of Ibn Arabi and Spaghetti Westerns, personal observations on frontiers, the desert, the East and the West.

The collection of texts presented in this issue express distinctive voices and positions on feminism by connecting geography, gender, and the body. Most importantly, it brings these voices together and offers a feminist poetic that resists essentializing and easy definitions, but that shares a political consciousness. "Really, two? Doesn't that make you laugh? A strange kind of two, which isn't one. Let them have oneness, with its prerogatives, its domination, its solipsism: like the sun." (Luce Irigaray, When Our Lips Speak Together)

Hyperallergic "From a Beirut Lit Journal to a Kim Kardashian Tabloid - Highlights from BABZ fair 2017